BBO and IBO 2015
British Biology Olympiad results
More than 6000 students took part in the 2015 British Biology Olympiad!
Students who achieved Gold, Silver or Bronze were invited to attend the 2015 awards ceremony in July 2015.
2015 Top Schools
Top school overall: St Paul's School, London
Top school in Northern Ireland: Sullivan Upper School, Belfast
Top school in Scotland: George Heriot's School, Edinburgh
Top school in Wales: Cardiff Sixth Form College, Cardiff
Team selection for the 2015 International Biology Olympiad.
The top 130 students took a second more demanding paper in March. Twenty of them were invited to the School of Life Sciences at the University of Warwick where their practical skills were tested and they took a third theory paper. We are pleased to announce that four of these students have been selected to represent the UK at the International Biology Olympiad in Denmark this summer.
Timothy Birkle (St Paul's School)
Guy Cheng (Winchester College)
Matthew Hankins (Reading School)
Rhys Thomson (Reigate Grammar School)
The team were congratulated on their success at an awards ceremony held at the Royal Institution on Thursday 2nd July.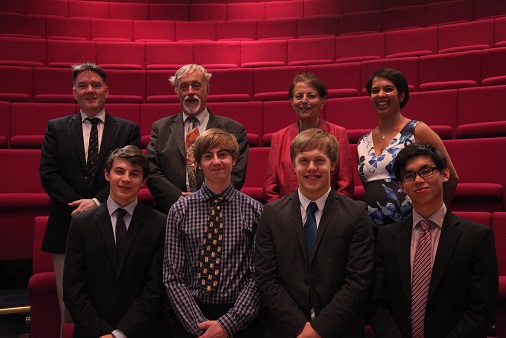 Back Row: Dr Andrew Treharne (UK Biology Competitions Chair), Dr David Chivers (guest speaker), Professor Dame Jean Thomas (Royal Society of Biology President), Rachel Lambert-Forsyth (Royal Society of Biology Director of Education and Training).
Front Row: Tim Birkle, Matthew Hankins, Rhys Thomson, Guy Cheng.
Team success in Denmark.
The team members all won medals at the International Biology Olympiad. Guy, Tim and Matthew won Silver and Rhys won Bronze. Many congratulations!