Welcome
The official website of the British Biology Olympiad, Intermediate Biology Olympiad and Biology Challenge.
More than 7500 students have taken part in the 2017 British Biology Olympiad.
Top students will be invited to take part in team selection for the International Biology Olympaid which will take place from 23rd to 30th July at the University of Warwick. This will be the first time the IBO has been hosted by the UK and we are expecting students from 70 countries.
This year's Biology Challenge grade boundaries are as follows: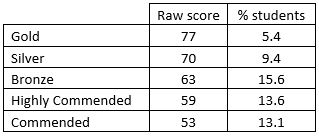 This year's British Biology Olympiad grade boundaries are as follows: